We joined the Open Payments Coalition to implement PayID, an easy-to-read ID to send and receive payments, connecting 100m users worldwide cross-platform. We join forces with BitPay, Brave, BRD, Flutterwave, globaliD, Uphold and other cutting edge fintech companies.
Imagine seamless money transfer, without the need for a banking account, routing, SWIFT or IBAN number. Say goodbye to pesky wallet addresses and insecure QR codes. It's simple sending and receiving money, across payment networks, in multiple currencies, by using a single ID.
Together with the PayID Coalition, we are lowering entry barriers to digital currency payments by recalling the successful format of email addresses, which are easy to remember, convenient to dictate on the phone and hard to misspell. Without much conscious effort, the greater part of the world is familiar with RFC 3696, which specifies the email address format standard. For PayID, we simply replace @-sign with $-sign. I bet you can remember that difference, when it comes to payments ;-)

This is how a PayID address looks like. The local part could also be your whole email address!
"This achievement is worthy of the title 'the DNS for payments'; whilst translating domain names to IP addresses was a vital stepping stone for the web, we see this milestone as a giant leap forward for payments. It is an honour to be co-writing this chapter of the history of digital payments." Sergio Mello, CEO Tangem.
A Shared Vision: A New Era of Trust in Global Payments
Finally, it seems the fintech / crypto industry is coming together for the greater good. At Tangem, we make it our mission to bring about a new prosperous era of trust that impacts both society and businesses by supplying financial access and independence to everyone. We facilitate trust by enabling digital asset issuers and holders to transact without centralized, legacy authentication frameworks — we make complex technology accessible and easy with the simplicity of a tap. But most importantly, we don't compromise security for convenience; security is assured by our proprietary, audited firmware layer, which is designed to generate and never disclose cryptographic keys, rendering the cards impossible to clone and indiscriminately secure, perfect for the least tech-savvy holders.
Tangem advocates for the global payment landscape to join forces towards financial inclusion. That's why we prioritised interoperability with most blockchains, friendliness to multiple developer platforms and open-source SDK. Today, we're creating a new, inclusive era of payments: now users can send money quickly without having the responsibility of handling a long string of random characters.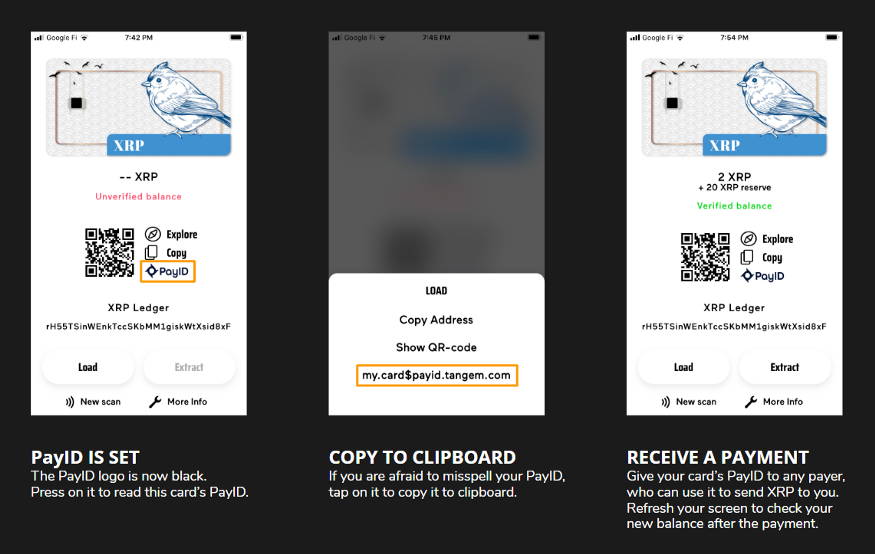 Tangem now supports PayID. The cardholders only needs to disclose their PayID address to payers.
We're proud to be one of the first three wallets supporting PayID. Of course, many companies will join the Open Payments Coalition: PayID can be enabled by any business that sends or receives money — whether a bank, payment provider or processor, digital wallet or remittance provider. Implementing PayID enables companies to access more networks, consumers and currencies to expand their business. PayID is for everyone; it's open, free and simple to integrate.
This is a huge step forward for payments. We want to build the right technical conditions to create a new era of trust that leads to fair, prosperous, open societies. Watch this space…
Don't miss out!
Stay informed on all things Tangem: